Vegan Burgers for the Grill
HOW TO MAKE A VEGAN VEGGIE BURGER WITH BEETS AND CHICKPEAS
We're loving this simple recipe from Veganosity and we couldn't help but add some PowerBlends to it - making it EVEN more nutrition. More #fiber, #plantbasedprotein and #omega3s. 
Ingredients
1 cup of whole oats ground into a course flour
1/2 cup of breadcrumbs – gluten-free is desired
1 15 ounce can of chickpeas drained and rinsed– reserve the bean juice (aquafaba)
2 medium roasted beets
1 to 2 teaspoons of Cajun seasoning – any brand will do :) 
1/3 cup of aquafaba
2 tablespoons of ORIGINAL PowerBlends
Ground sea salt and black pepper to taste
Instructions
Grind the oats into a course flour in the food processor. Add the breadcrumbs, chickpeas, beets, Cajun seasoning, aquafaba, and salt and pepper to the processor and pulse until the ingredients form a stiff ball.
Carefully remove the blade from the bowl and form the mixture into patties. I made five large patties, you can make them smaller or larger if you like.
Heat them all the way through (approximately 8 minutes) on a skillet or on the grill on medium heat, flipping every two minutes. Brush them with a thin layer of oil to prevent sticking. Don't overcook or they'll dry out.
You can store them in an airtight container in the refrigerator for up to a week or in the freezer for one month.
Enjoy!
This is as simple as it gets. Grind the oats in the processor until it looks like course flour, then add the rest of the ingredients and pulse until it forms a stiff ball. Roll the batter into patties and pan fry or grill them. You'll want to brush them with a bit of oil to prevent them from sticking.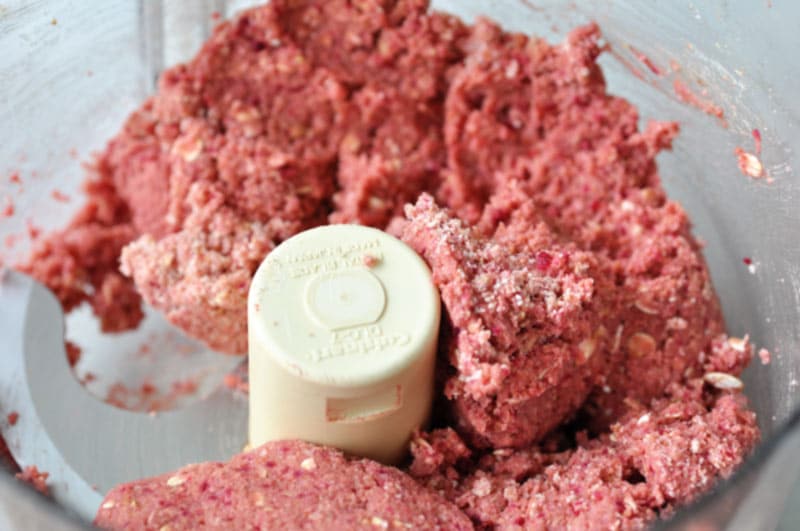 a #vegan beet burger that doesn't fall apart on the grill
A spicy, delicious, and healthy vegan veggie burger made with beets, chickpeas, and aquafaba. Finally, a vegan burger that won't fall apart on the grill!
10 min -- Prep Time 
8 min -- Cook Time 
---
Also in Delicious Recipes